Is there such a thing as too much shrimp?  Because I surely don't think so.
Baked Shrimp
Scampi Shrimp
Fried Shrimp
Shrimp Kabobs
Shrimp Pasta
Shrimp Mac n' Cheese
Stuffed Shrimp
Beer Battered Shrimp
….need I go on?
If you dine out at Bubba Gump Shrimp you'll find out just how many different ways you can enjoy shrimp.
Last month, while in Miami for the Blogalicious conference we made our way to Bubba Gumps Shrimp for the old dude's birthday dinner.
Being the seafood lover that he is, when I asked him where he wanted to go he took to Yelp searching for seafood.
The Forest Gump lover in both of us couldn't pass at the chance to go to Bubba's when it came up on the list of places in the area.
I loved the theme of the restaurant being completely around the movie. And speaking of the movie it played on repeat throughout the restaurant.
The menu consisted of shrimp made in every way that you could ever want.
We got started with the seafood hush pups. A cross between like a crab cake and a hush puppie. Two of my absolute favorites.
For my entree, I was torn between the Shrimp Mac n' Cheese (off the appetizer menu), Net Catch (like a shrimp broil) and the I'm Stuffed Shrimp (shrimp stuffed with crab meat). I love crab and so I ended up settling on the latter.
Hubs went with the Bourbon Street Cobia since he had never had, let alone heard of, that kind of fish.  And of course, it was paired with shrimp.
My visit to Bubba Gumps was certainly a highlight of my time in Miami.
Today, I thought I'd share with you one of my favorite shrimp recipes.  Since I got you all worked up and ready for shrimp.
It's a quick and easy meal too. One of my go-to meals when I need to whip up something fast.
My sheet pan Shrimp Broil.
You cut up your sausage and potatoes.
Par-boil the potatoes and the corn.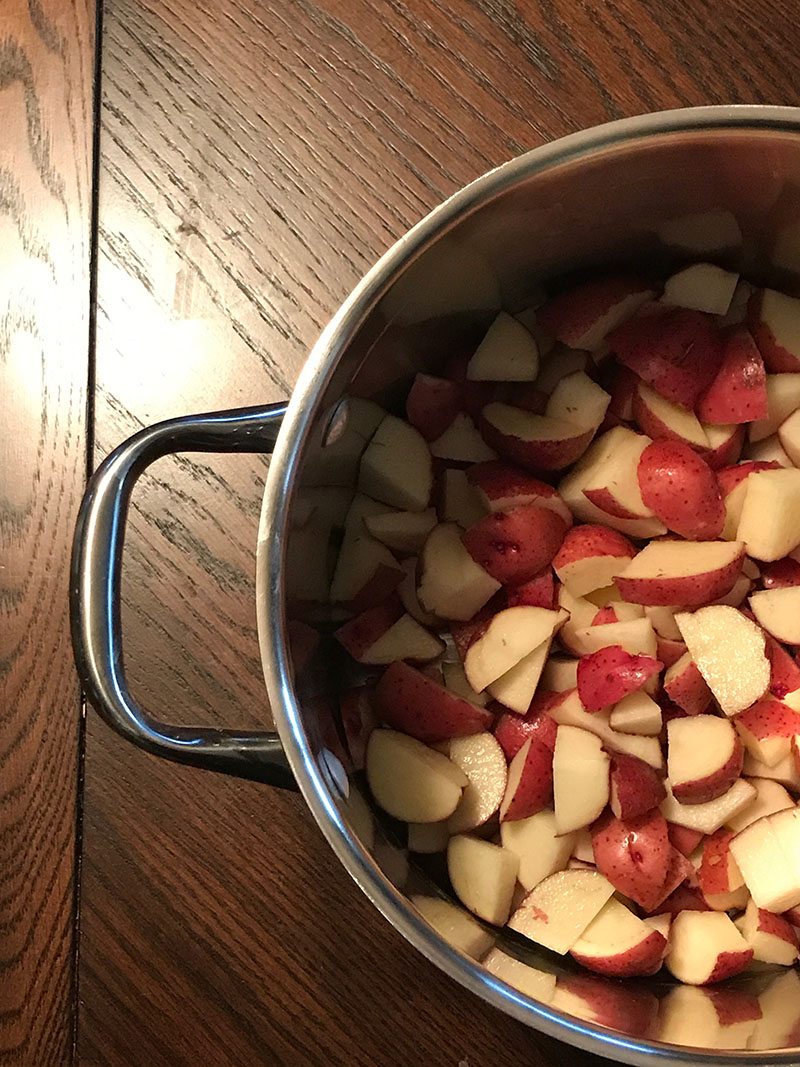 Mix everything together and throw it in a heated oven.
Come back twenty minutes later with a fork in hand!
| | |
| --- | --- |
| | |
Cut up potatoes into small squares.

Put on large pot to boil.

Boil potatoes actively for 10-12 minutes and add corn in the same pot for last 5-7 minutes.

In a large bowl, combine all ingredients and seasoning. Mix well. I put in a large bowl with lid and shake up really well. But could stir as well.

Spread out over 2 baking pans and bake for 25 minutes or until shrimp is fully cooked and potatoes are tender. Shrimp will be pink in color and have a tighter curl to them when they are done.
There is a slight spice to this because of the Old Bay Seasoning.  If you want to decrease it, decrease the amount of Old Bay used.
You can use frozen pre-cut pieces of corn if you prefer.  I have done both.
If using smaller potatoes you may need to add more.
WANT TO SAVE THE SHEET PAN SHRIMP BROIL RECIPE TO MAKE FOR LATER?  HIT THE PIN BUTTON!