Meet Cassie!
A beautiful lady I have met through a blogging group I am a part of.
She is a writer, encourager and awesome woman of God!
She is sharing with us today about contentment, and let me tell you that doing this interview just blessed my entire soul. She has a lot to say, but it is well worth every.single.word!
---
Hello!
I'm a Christian writer, I write devotions, poetry, advice columns, children's stories, etc.
I am the wife to the male version of myself for going on 12 years, a Stay at Home Mom of 2, and forever disciple of Jesus Christ. Women's ministry is my heart and my desire is for every lady, regardless of age, to not ONLY come to a saving knowledge of Christ, but also learn how to live out every day as a true disciple of Him. I believe that this effects change in the home, workplace, community, and world.
My passion is learning the Word of God and figuring out how to practically apply into daily life, then teaching others to do the same. I currently lead a 7th grade girls LIFE group, a ladies LIFE group, and write in order to encourage women to never settle for the surface level of things, but to dig deeper in every aspect of their lives, all in order to grab hold of that little Something More God has for them.
My goal is to one day be published and be involved in a women's ministry that has these same goals in mind. For now though, my written word is my primary outreach and the tagline for it is this, "As I learn – I teach. As I feel – I write. As I live – I grow and encourage others to do the same."
My greatest motivators are:
When I know God has told me to do something

When my family/friends are depending on me

When I see a personal accomplishment or character trait that I want to possess for myself, for my own growth and development

When I give my word
There are so many things that have made me who I am today, like having a well-rounded upbringing (everything from cooking and crafting, to tending land and building porches); my Memaw, who awakened the writer in me; getting married, which taught me how to make the shift from child to woman of God; having children, which taught me to live/love unselfishly; and discovering my calling for women's ministry, which gave me a direction and passion for the work God has called me to.
 
As I reflect, I would say that while several women have made positive influences in my growth as a woman, there are none that really stand out as having a pivotal role. However, in my adulthood the women that HAVE had pivotal roles, I have never actually met, but their written words and the example of their lives have helped me grow more than anything else. Just a few of these ladies are:
Beth Moore

Ella Mae Natvick, my Memaw, who passed away when I was 10. She was the only other writer in my family, with only a 5th grade education, and is the one from whom I genetically received any talent I may have)
These ladies, and I'm sure others that I may have failed to mention, have helped shape me by living their lives as REAL women who embrace discipleship and practical ways of applying the Word of God into their everyday lives. They live out their faith in very tangible ways and are an encouragement to me in almost every facet of my life.
My greatest struggle is contentment.
I have a "big picture" mentality and have always been a dreamer. Because of this, I have a tendency to become discontent.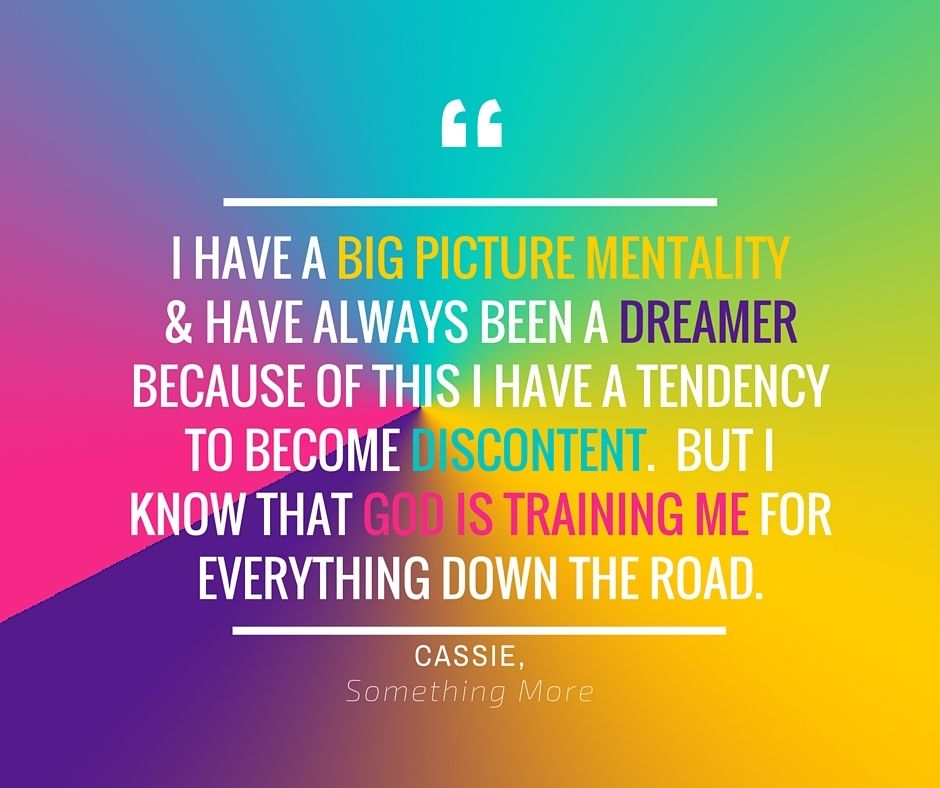 When I know or can imagine what I can/will one day do, but cannot immediately live it out due to the everyday life of raising two young children, it causes me to start wishing and I lose sight of the blessings in the season I am in. I know it's all temporary and it IS my current ministry, but sometimes emotions get the better of me and I long to be able to step into what I know is coming in the future.
I am still working through this as it is a constant struggle, but my strength comes from recognizing that, while I may long for things to come, God is currently training me for everything down the road. Being a stay-at-home mom can be monotonous at times, but it's producing in me a self-disciplined character and selfless love that is crucial to life as a believer. Prayer, praise, counting all the blessings surrounding me, and getting outside of myself, by serving others, all bring me back to the reality that I CAN be content in whatever situation I am in, and it's by the strength that Christ gives that I can do that.
A good woman is one who is more in love with her Savior than anyone or anything else in the world. She is real, has real struggles, but handles every aspect of life with grace, confidence in Christ, and a teachable spirit. She loves life and whatever work God has for her in every season, and reflects the love and forgiveness of Jesus in everything. A good woman knows that her primary job is to know God and make Him known by sharing the Gospel with others, then attends her ministry by putting God first, family second, others third, and self last.

Only by the grace of God, I am BECOMING that good woman. I claim it because the work of Christ is not through with me, and although I consider myself as not having yet attained it, I refuse to believe lies that I am no good in any form. As a daughter of the King, regardless of how far I have to go and how much I have yet to learn, I believe I am a good woman simply because any goodness that I have in me is His goodness.
Don't lose yourself. Remember the woman you are in Christ and the wonderful things you bring to the…
Click To Tweet
My advice on discontentment:
Do not let any other priority replace God's FIRST priority in your everyday life. Keep your relationship with Him strong and the rest will be a whole lot easier to manage.

The work you are doing RIGHT NOW with your family is your greatest ministry for the season you're in, and it is only a season. Treat it as a ministry of love.

Don't lose yourself. Remember the woman you are in Christ and the wonderful things you bring to the world. Find at least 1 thing, several times a week, that you do just for your own enjoyment, even if it's just for 30 minutes. Trust me, if Mama ain't happy- ain't NOBODY happy!

Do not allow your peace and joy to be stolen! This is crucial regardless of whether you are a SAHM, a career woman, whatever. Peace and joy are not circumstantial and do not necessarily mean "happiness", they are the manifestations of the inner calm you have as a chosen child of God. I have found that the 2 main equations for maintaining these two things are these: Prayer=Peace; Praise=Joy. Without fail, when these two things are present in life on a consistent basis and with a sincere heart, peace and joy will remain.
Step into the woman God has planned for you to be... w/@CWsomethingmore
Click To Tweet
Lastly, I want to say this…
not only are you chosen, priceless, and given the gift of salvation and redemption through Christ, but you are BEAUTIFUL! Inside and out, your spirit and your physical being is exactly what God chose for your life. For every aspect of who you are: physical, mental, emotional, spiritual; and for every season you may step into, you are beautiful and treasured by the very One who made you.
Even when life seems lonely, pointless, or even just plain DONE, Christ adores you and has His arms around you. Nothing in this earthly life is permanent and to believe that your eternal worth is based on a temporary state of being, is a lie.
Step into the woman God has planned for you to be… circumstances cannot hinder you, physical attributes cannot discredit you, and lack of ability cannot disqualify you! You are made EXACTLY how God wants you to be made and recognizing the beauty of WHO you are and WHOSE you are is your key to unlocking the godly potential lying dormant in you.
Brush off the dust of the world and stand tall as the royalty that you are. There is work to be done princess… people are literally dying for the secret to Heaven that you hold. Think outside yourself and allow the Spirit of God to live through you. You are beautiful!
-Cassie
---
If you are like me, you are so filled after reading that. Cassie is an amazing lady with an amazing story, and God is truly using her. I like to offer my readers the opportunity to follow and even reach out to our features if they so chose. This is where you can find Cassie:
 Blog | Twitter | Facebook | Instagram
I love to spotlight and feature real women with real struggles. Women who are being open and transparent about their struggles, how they are not letting those things define them. Instead they are defining their own "good". To see more about why transparency is so important please Click here.
Interested in submitting your reflection?
Be blessed.
Author of
Effective Coparenting
, card carrying member of the Blended Family Movement (which is not really a thing, but is a thing), Transparent Sharer, Mountain Mover and Lover of Good Food.
Latest posts by Kenya Rae (see all)