If you have followed any of my fitness posts, you know by now that I DO NOT like working out.
I get bored easily and if I don't see results, I quit. Simple as that.
But here lately I have been on a really good streak and I attribute it to the fact that I have found classes and workouts that I actually enjoy.
My main focus lately has been cardio and just moving my body, breaking a sweat. I like to take classes and have other people around me when I am working out.
Plus when you are dancing it really doesn't feel like working out.  Cause we backing it up….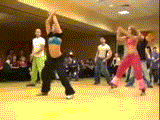 Here are the classes I am taking recently to get my workout time in
Step
Step class is great workout.  It's the perfect way to  get in a action filled cardio workout. For me, it was intimidating at first. I don't have the best coordination. You couple that with a board I can trip over and if you watch long enough you may get a good laugh.
I haven't fell on my face (yet) but I have stumbled.
My heart races every time too cause falling doesn't feel good and I can always see it playing out in slow motion before it even happens.
Now that I have found my groove step is one of my favorite classes.
Zumba
Again me and coordination ARE NOT homies. I use to be able to dance pretty good. But now my bad knees and lack of coordination can have me looking like a straight fool.
But I have found some great Zumba classes here in Raleigh that have great music and moves I can do after I study them for a minute.
I always leave Zumba soaked and feeling like the hour was totally worth it.  Plus it's lots of fun.
Spinning
Spinning is my favorite source of cardio and a great way for women to get in a good cardio workout.
If you can get past the first couple times without giving up, you'll love it too.
I shed all 20+ pounds of post baby weight after I had my son with going to spinning class twice a week.
The class back home was my favorite but I have found a few classes here that I enjoy.
The thing with spinning is the music. I need good music to make me push through when I want to quit.
Over the last month I have done some form of exercise between 3-5 times a week with one of these three classes.
It has been a good time and helped me shed a few more pounds. I'm inching along slowly but surely.
Speaking of it, here's my update for this month.
Workout details
I have been killing it with working out this month.  I have been averaging 3-5 days a week and some days, twice a day.  I swear in my twenties if I did that I would need a new wardrobe in two weeks cause the pounds would just fall off.  In my thirties, NOT SO MUCH!
What I am eating
I have just been listening to my body and eating when I am hungry, but also stopping when I feel full.  Most of the time.  I still overindulge a bit and I need to do better with that.  I have a solid couple days where I am literally CRAVING sweets and I don't know how to tell myself no.  Sometimes when I get home from the gym I really have a taste for some scrambled eggs so that has been a quick breakfast for me when I want breakfast.  Lunch is with my go-to lean cuisine's or whatever I find in the fridge for leftovers.  Dinner has been the same pretty much.  Meatless Mondays, Taco Tuesdays, and then Something simple on Wednesdays and Thursdays with a quick meal on Fridays.  On the weekend I do a decent brunch/lunch and normally dinner.  No lunch.
My current struggle(s)
My knees tried to do the fool on me for a little bit.  But I rested for a bit and then I was good.  I am trying not to get discouraged by how slow I am loosing weight though.  Some days I really feel like what is the point.  And then I remember that if I don't workout then I will most likely start gaining again.  And I am GOOD ON THAT!
The warmer it gets outside the better I feel and more motivated to keep at it.  We just bought my daughter a new bike.  Her old one had gotten too small, and so now we will be hitting these trails around here.  I am sure that will help too!
Weight
I am down to 173 pounds.
So I am loosing, just at the pace of turtle.  But they say slow and steady wins the race, so we shall see.
I have had people ask me if I am loosing weight so I know my body is changing, just not the number.  I am still not fitting into the clothes that I WANT to fit in, but I have gotten into a few things that I could not fit a couple weeks ago.
So I am still at it and pushing along.  Between trying to eat better, workout, and just feel better it can be a lot.  But each person has to run their own race.
How are you holding up with your fitness goals this month?
Author of
Effective Coparenting
, card carrying member of the Blended Family Movement (which is not really a thing, but is a thing), Transparent Sharer, Mountain Mover and Lover of Good Food.
Latest posts by Kenya Rae (see all)